Train Buff Shares Knowledge and Passion in Series of Seminars at GCC's The BEST Center
Batavia, NY- Mike "Max" Szemplenski has worked on railroads, hosted a TV program about them and nurtured a passion for trains that has spanned five decades. Szemplenski brings his love and knowledge to GCC's The BEST Center this spring and summer for a series of seminars. Get on board for Max's Railroading Roundhouse and you'll be led on a fascinating journey exploring railroads, trains and safety on the tracks.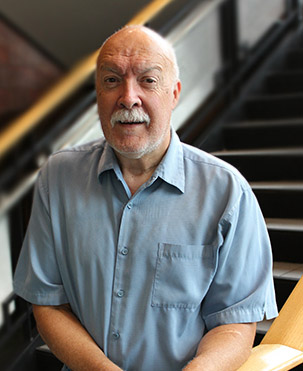 Each session is taken individually. The series includes:
•The History of the Railroad Caboose, Thursday April 23, 2015, 7-9 p.m.
What started out as a converted boxcar in the 1840s and was known as the "Conductor's Car," soon was made into an elaborate railroad car used by the conductor and his crew. The last cabooses built in the early 1980s featured stylish extended cupolas. Join Max for a lively discussion about the caboose and how it changed over the years, the jobs that were performed in it, and who shared it. Some conductors spent more time living in their caboose than they did in their own homes. Bring examples of your own favorite cabooses to share.
Fee: $20.

•The History of the Steam Locomotive, Saturday May 23, 2015, 10 a.m.-12 noon
Begun in England, the steam locomotive developed dramatically in the U.S. In this seminar, Max explores its history over a century, from the first crude engine named "Tom Thumb" to the massive steam engines built by companies like Baldwin Locomotive Works, the American Locomotive Company and the Lima Locomotive Works. Learn how this "Iron Horse" was perfected from the Erie RR engine to the famous "Hudson" made for NY Central, and "The Big Boy" of the Union Pacific Railroad. Bring your own models to share.
Fee: $20.
•The History of Passenger Trains, Saturday June 20, 2015, 10 a.m.- 12 noon
Long before Amtrak, there were many different railroad passenger trains. From early open cars to wooden passenger cars, these trains offered sometimes hair-raising rides to those who dared to get on board. Different railroads then built heavy-duty steel cars and added safety features. Learn more and share your own famous passenger train ride experiences.
Fee: $20.
•A Look at Railroad Safety and Derailments, Saturday July 18, 2015, 10 a.m. – 12 noon
Railroad companies began to develop accident prevention equipment when a need arose for a signal system to keep one steam locomotive from running into another. Max will explore some of the different signal systems along with many other railroad inventions. Through a pictorial presentation that will include video, Max will look at some of the train wrecks that occurred in the region, including the Amtrak crash in Batavia in 1994. He'll explore safety improvements and Operation Lifesaver. Participants are encouraged to bring any railroad artifacts, pictures or other items they're willing to share with the class.
Fee: $20.
Enrollment in these seminars is limited. Register for one or more of them online at https://app3mid.genesee.edu/flexibleregistration/index.jsp?frc=BEST&q=subj:.
For more information, contact Marketing Communications Associate Director Donna Rae Sutherland at (585) 343-0055 ext. 6616, or via email: dsutherland@genesee.edu.
# # #
Editor's Note:
A photograph of Max Szemplenski is available here:
http://marketing.genesee.edu/images/Max_Szemplenski.jpg