Children's Theatre Production to be Performed On Campus and On the Road
Batavia, NY- With stories such as "A Party in Heaven" and "How the Monkey Got a Drink When She Was Thirsty," GCC's Forum Players Children's Theatre Ensemble considers Brazilian culture in a selection of "Brazilian Folk Tales" that will be on stage on Friday, April 24, 2015 at 7 p.m. in the Stuart Steiner Theatre on the GCC Batavia campus. Additional performances are planned at venues in Wyoming, Springville and Rochester. Specific dates, times and locations are listed below.
"Brazilian Folk Tales" features close to a dozen stories that examine aspects of the culture in South America's largest country. From monkeys and turtles to jaguars and goats, animals native to Brazil figure prominently in nearly all the scenes.
A number of the actors appearing in the show take on more than one role. Performers include: Blake Carter, Maryssa Peirick and William Rupp, all of Batavia; Alden Foppes of Oakfield; Alex Farley of Corfu; Shelby Waterman of Bergen; Christian Hoffmann of Hilton; Maria Albanese of Kendall; David Wysocki of Hamburg; Samantha Bell of North Tonawanda; Ryan McKenrick of Rochester; Kayli Wilson of Canastota; Drew Burt of Scio, NY; Akihiro Tamura and Kaori Shinchi, both of Japan. Caroline Peterson of West Seneca is serving as stage manager for the show.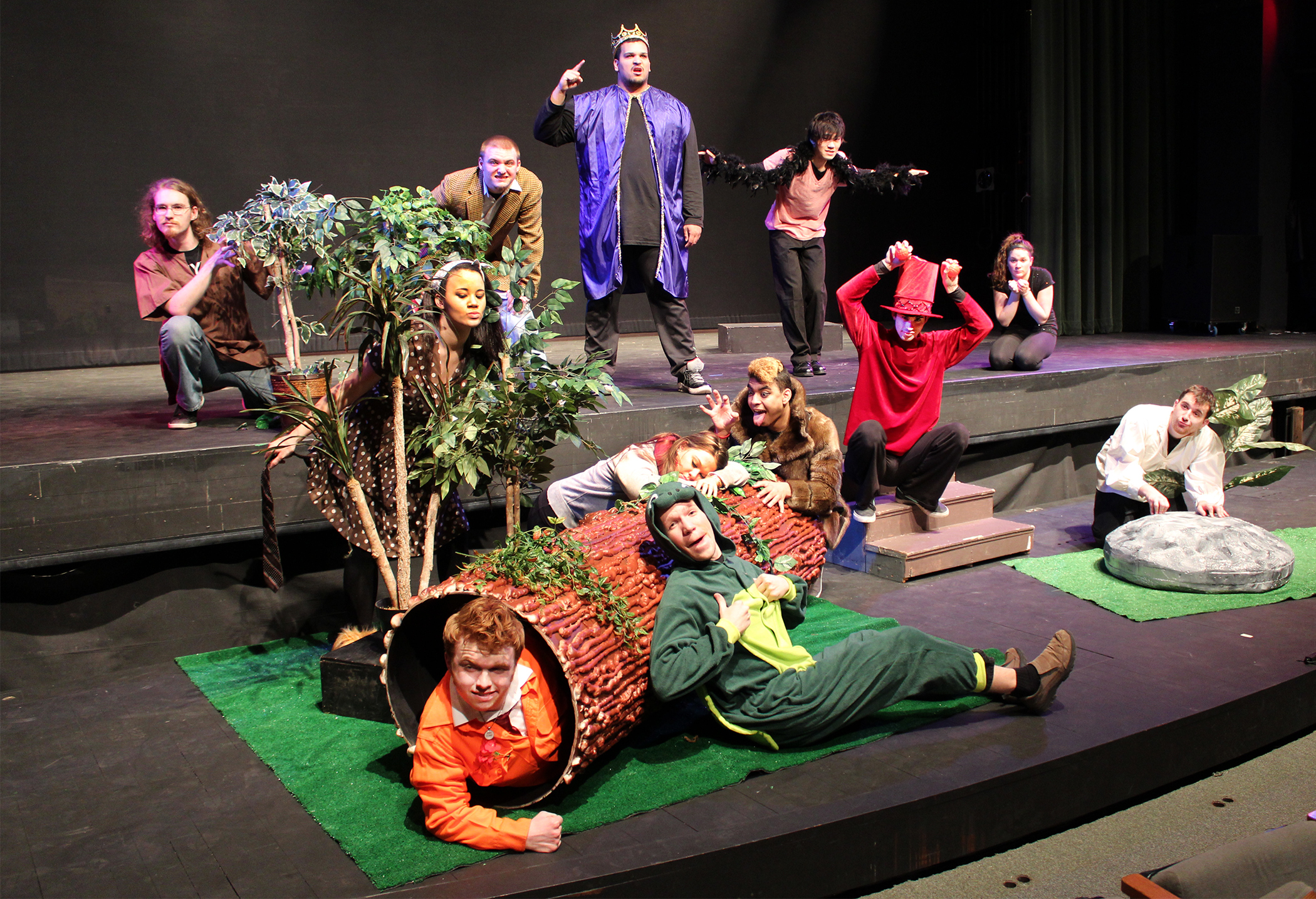 In addition to the performance at GCC's Batavia Campus, the following community performances are scheduled.
•Saturday, April 25, 11 a.m., Wyoming Village Hall, 103 Main St, Wyoming
FREE and open to the public
•Saturday, May 2, 11 a.m. & 1 p.m., The Strong National Museum of Play,
One Manhattan Square, Rochester, NY (Performance is FREE with museum admission)
The cast will also visit Springville on April 27th where they will perform three shows for elementary school students at the Springville Center for the Arts.
The script for "Brazilian Folk Tales" is adapted with the authors' and editor's permission from the book Brazilian Folktales by Livia de Almeida and Ana Portella.
Tickets for the show at the Batavia Campus in the Stuart Steiner Theatre are $8. GCC students with ID and children pay $3. Seniors and GCC faculty/staff are $5. GCC alumni receive $2 off with ID. Contact the Box Office for more information at (585) 345-6814 or boxoffice@genesee.edu.
For more information, visit http://www.genesee.edu/campuslife/arts/calendar.cfm.

# # #
Editor's Note:
For an on stage photograph of "Brazilian Folk Tales" please go to:
http://marketing.genesee.edu/images/BrazilianFolkTales.jpg

In addition, please note a photo opportunity with "Brazilian Folk Tales" cast in costume is scheduled in the Stuart Steiner Theatre on the GCC Batavia campus on Friday, April 17, 2015 at 4:30 p.m.